Today's Top 5 of 2013 is Goals
for the New Year
, and what would be a more appropriate day to post it than today?
I've come so far in my sewing skills in 2013, but still have more I can learn!
#1 - Pants
This means real, wearable-outside-of-the-house pants. Not pajama pants. Leggings would be great to make, but the goal is actual pants.
I attempted McCalls 6707 last February
.... which ended in a ball of fabric and pins in my sewing drawer. Gillian of
Crafting a Rainbow
suggested I try pants from the Austrailian pattern company
styleARC
. Gillian has made a lot of great versions of the Elle pant (
check her makes out!
), so I'm leaning towards that pattern for my 2014 pants goal, and may even splurge for the shipping on the suggested
Stretch Bengaline
fabric.
#2 - Swimsuit
I've made a bikini a number of years ago using
Kwik Sew 3330
. I love the flirty mid-rise bottoms... but alas, I'm not quite comfortable in a bikini at the moment.
I loved seeing everyone's
Bombshell Swimsuit by Closet Case Files
, but prefer a more traditional bottom so I'm making a Bombshell-inspired tankini! I'd planned on making this last summer, and already have the fabric and made a mock-up of the top using
Kwik Sew 3761
. This year, it's so happening!
#3 - Underwear
I've attempted the free pattern from
So Zo.. What do you know?,
with not yet great success. But what I really want to make are
The Ginger Body Suit and Separates
by
Ohhh Lulu
. I need some fabulous foundations for my 2014 makes!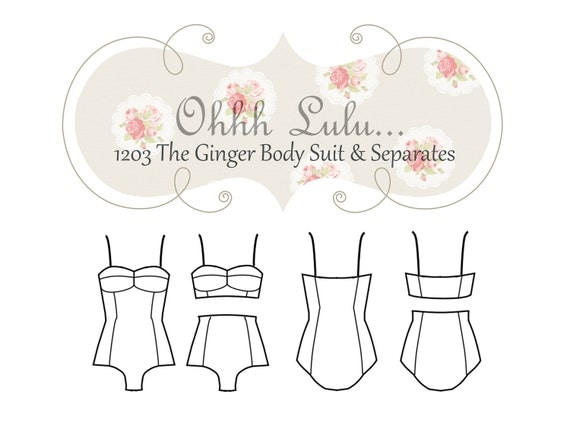 #4 - Coat/Jacket
#5
- While I'd love to use my last goal for making an amazing
Sewaholic Cambie Dress
(which I WILL make, and I have a feeling will become my new go-to dress pattern), I instead want to use this spot to make a goal to teach. I have had a few folks that have expressed interest in learning, and I know I am a great teacher, so in 2014 I'm going to be offering some informal 1-on-1 sewing lessons. I'm really excited about this possibility (and at the very least it will encourage me to keep my sewing room fairly neat)!
So.. what are some of your 2014 goals?